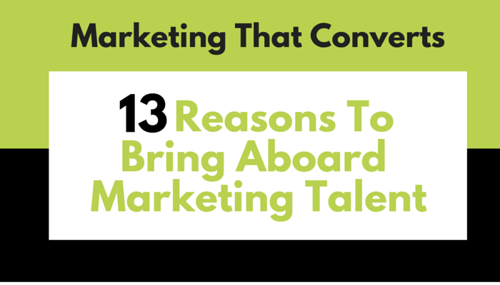 This post originally appeared on D'Ana's LinkedIn Pulse feed Marketing, Hiring, and Growth Strategies.
Whether you run a Direct-to-Consumer Company, Business-to-Business Organization or Professional Agency, hiring new employees is a part of growing.
First, congratulations on your upward growth trend, very exciting! But let's face it, expanding your team is a daunting and admittedly time-consuming task for any hiring manager or HR department. So why should you specifically bring a new member to your team in a Marketing role?
Because you want to:
Impact The Bottom Line With Positive Marketing ROI

Exceed Business Success Goals Year-Over-Year

Fill Your Sales Pipeline & Keep It Healthy

Build Your Brand Awareness & Reputation

Generate Qualified Leads For Your Business

Convert Prospects Into Paying Customers

Delight Customers Into Advocates for Your Brand

Build An Efficient Sales & Marketing Engine

Scale Your Marketing Efforts For Highest Impact

Balance & Utilize Your Marketing Budget Wisely

Inspire Target Market Understanding & Adoption Internally

Foster Co-Workers Creativity & Build An A+ Team

Have An Agile & Aligned Smarketing (Sales & Marketing) Team
Fresh talent can invigorate any brand with new strategies and out-of-the-box thinking. And a new Marketing mind can bring an unbiased mindset to achieving new goals for the company. It might just be time to bring on some new Marketing expertise to your organization.
What reasons do you have that make you want to bring new marketing talent aboard for your business?
Need a Marketing Professional right now that can fulfill your needs, and then some?